Tandem Skydiving in South Africa
Not sure whether skydiving is your sport or not?
Your friends are mad about skydiving and you want to join them for a holiday in Cape Town? No problem! Decide later whether you want to start skydiving and book the AFF course whenever you please.

A tandem skydive is the perfect and easy start to your skydiving career and it is fun! Join an experienced tandem instructor and jump off the plane from at least 9.000 ft. and get at least a 30 seconds free fall adventure. Under parachute you may steer the chute for a while, if you like, or just enjoy the fabulous views and let the instructor fly the chute to a safe landing.

We offer Tandem Skydives at two different locations:

Tandem Skydiving - Cape Town
Our Cape Town Dropzone is located 20 min North of the City Centre and offers unbeatable views. On the way to altitude you see Table Mountain in the South, spot Robben Island in the West or have a look at the Lagoon of Langebaan in the North. We jump 7 days a week.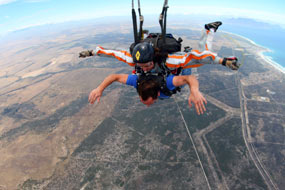 Tandem Cape Town Tandem Skydive from 9.000 ft



2850 ZAR (in EUR)

Video + Pictures


800 ZAR (in EUR)
The footage will be copied onto an USB-Stick.

Tandem Skydiving - Winelands
Our Wineland Dropzone is located in Robertson, a two hour drive from Cape Town. You can enjoy a scenic ride to altitude and have a look at the mountains and vineyards around Robertson. It's the perfect weekend getaway. This Dropzone operates weekends only.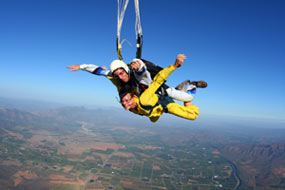 Tandem Winelands Tandem Skydive from 11.000 ft



2850 ZAR (in EUR)

Video


650 ZAR (in EUR)
Video + Pictures


800 ZAR (in EUR)
Want to do it yourself? AFF-CourseAdvanced Training

Just book an AFF-Course with us and join the Skydiving Community!