AFF Course - Skydiving Cape Town
The AFF course is the best and safest way to be introduced to the world of free fall. Learn how to control and fly your body in free fall and how to fly and control your parachute.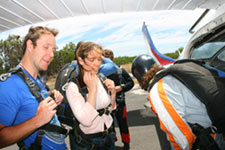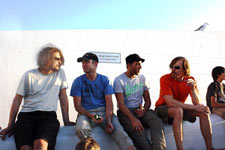 On the first three levels you will be accompanied by two instructors - later there will be one instructor at your side - he controls your free fall and interferes if necessary. Level 8 will be your first Solo Skydive. Due to this intense one-on-on coaching your flying skills will improve fast. The course is divided into 10 levels, you have to pass each, in order to continue with the next level.

The AFF course starts Mondays with an intensive ground school.

Note: For an extra of only 300 ZAR (in EUR), you can start the course at any day of the week!

The next day starts with your first free fall. On level 1 you get familiar with free fall. Assisted by two instructors throughout the skydive you will perform a series of movements before opening your own parachute at 5000 ft and steering it to a safe landing. Improve your flying skills at the next levels to learn how to turn left and right, do a back loop, track and how to recover in your basic position to pull your parachute!
AFF-Level
Summary of Jumps
1st AFF-Level
11.000ft
2 instructors. Get used to free fall, pull your own parachute, altitude awareness, good body position, general awareness and safe landing.
2nd AFF-Level
11.000ft
2 instructors. Basically the same like Level 1 plus start and stop forward movement.
3rd Level
11.000ft
2 instructor. Repeats Level 2 plus starts and stops a turn and instructors fully release the student.
4th AFF-Level
11.000ft
1 instructor. Repeats AFF-Level 3 with good body position and solo pull of the student.
5th AFF-Level
11.000ft
1 instructor. Repeats AFF-Level 4 but student climbs out unassisted. Linked exit.
6th AFF-Level
11.000ft
1 instructor. Unassisted climb out and unlinked exit, student has to recover stability twice.
7th AFF-Level
11.000ft
1 instructor. Student does backloop and turns, starts and stops at own discretion and demonstrates safety and independence.
8th + 9thAFF-Level
min. 9.000ft
2 consolidation jumps, of which one is a spin test.
10th AFF-Level
Hop & Pop. Unassisted climb out, good body position and 5 controlled seconds of free fall.

2 Weeks | Accelerated Free Fall course (10 Jumps)
AFF-Course incl. 10 Jumps & video debriefing

Rate (excluding accommodation): 26000 ZAR (in EUR)

+ Pick up & Drop off at Cape Town International Airport
+ Services
+ Accomodation

Double occupancy


Rates on request
Single occupancy


Rates on request

Note: Necessary repetition of jumps are charged separately at the drop zone
AFF-Course - Cape Town
Once all levels are passed you are a category 1 skydiver. Congratulations, you are now allowed to jump on every drop zone in the world!